Share this
Did you know you can use the Hungry Jacks vouchers to buy the Vegan burger meals? Yes, Vegans can certainly save a bit of $ by either using the digital or printed vouchers from the official HJ website (click here) or the Hungry Jacks mobile app. The voucher deal I normally use is the 2 Small Whopper meals which include 2 Flame-grilled whopper, 2 Small Chips and 2 Small Drinks. You can replace the 2 Whoppers with the Vegan burgers without any extra charges. I also change one of the drinks to OJ (orange juice) but in some locations they actually you charge you for this change (boo hoo!!)
Here's an example of the voucher. Note the Vegan Cheeburger small meal is already $10.20, so if you use this voucher you save $12.70 – that's a GREAT DEAL!):
If you're only after the burger, then you can get the 2 for $7.95 deal where you can replace the 2 Whoppers with 2 Vegan Burgers. Considering the Vegan burgers are already costs $6.90, you're saving $5.85 if you get 2 burgers :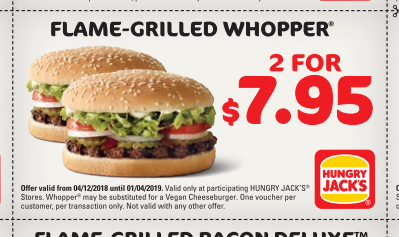 Make sure you get the latest vouchers from here: Hungry Jacks Vouchers
If you found this article helpful make sure you share it with your friends.
Comment with Facebook
Share with Facebook